June had been a month of celebration and holiday. My best friend got married on the 7th July and the week after we set off on a week's holiday on the misty Yorkshire coast. We didn't have the weather we might have wanted (rain and fog!) but we did have beautiful scenery, great company, delicious food and books! Here is what's in my book bag at the moment….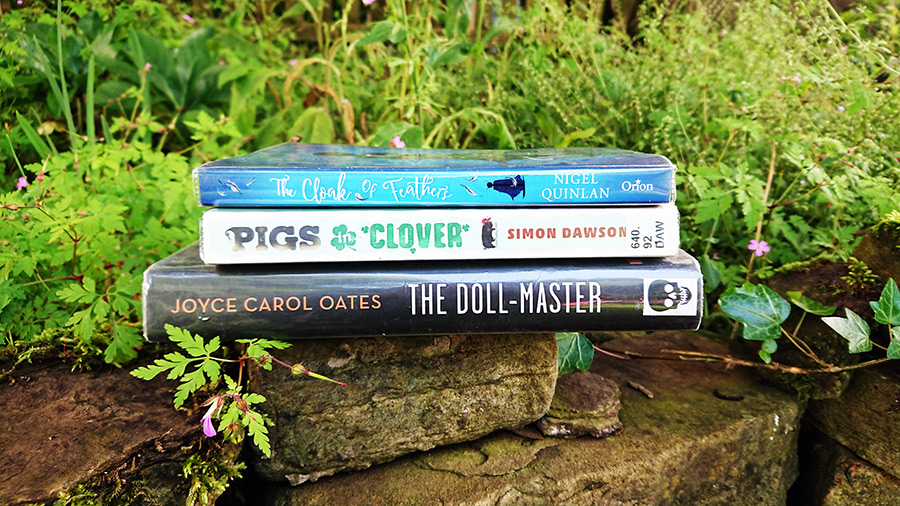 Last Book I Read – The Cloak of Feathers by Nigel Quinlan
Every hundred years, in the magical town of Knockmealldown, fairies known as the Good Folk join the villagers for a Great Festival. It's a raucous, beautiful, enchanted celebration.
Well, it's supposed to be.
Except every time Brian helps to organise the Great Festival it's a disappointment. Worse, this time the Folk Princess has been stolen. Can Brian thwart the Princess's evil captor in time to avoid the wrath of the Folk King and Queen, and finally deliver a Festival to remember?
The Cloak of Feathers was a bit like Good Omens, very funny and faced paced although not quite as epic in it's scope. I always like stories that mix the roots of traditional tales with contemporary settings. Like the Book of Lost Things, there was plenty of folklore and myth to recognise. Brian and his fellow festival committee members made heart warming heroes to cheer on in their baffled efforts to save the festival and the home town from destruction. Highlights for me where banshees on bicycles, a cow being the Lady Galadriel of the piece and a dance party gone very very wrong.
Book I am reading now – Pigs in Clover or How I Accidentally Fell in Love with the Good Life by Simon Dawson
This is the true story of a Londoner who gives up his job as an estate agent in the city, moves to the wilds of Exmoor, starts a smallholding and becomes self-sufficient, with a few bumps along the way. Simon's journey from urbanite to self-sufficient smallholder is brimming with incidents – some funny and some tragic – leading him to question Mother Nature, himself, the food he eats, and his role in it all. Which makes the transition from city life to self-sufficient smallholder slow, emotional and, for him, often confusing, but it is also beautiful, warming and laugh-out-loud funny.
So if you would like to spend time with an accidental smallholder who completely changed one drunken night in Devon, then join Simon, his wife and their extended family as they learn the truth of what it takes to live a self-sufficient life, before eventually becoming as happy as the proverbial pigs in clover.
I can't tell you how much I am enjoying this book. I'm 200 pages in and this book has well and truly got under my skin. I am considering growing my own vegetables and eyeing up the field behind our house wondering if I have missed my calling in life as a farmer. Honestly, Simon's story is hilarious, heart breaking and thought provoking. I've laughed out loud at how it is possible to accidentaly get pigs drunk, and then been deeply moved by the fate of one tiny hand-hatched chick. I've been taken in by every chapter and I think this book is going to stay with me for a long time.
It's books like this that make me so glad that I introduced my 2:1 rule; for every two fiction books I read, I try to read one non-fiction book. It's lead to some delightful books that I never would have discovered otherwise, and I love learning about unexpected things.
The next book on my list – The Doll-Master and Other Tales of Terror by Joyce Carol Oates
From one of our most important contemporary writers, The Doll-Master and Other Tales of Terror is a bold, haunting collection of six stories. In the title story, a young boy becomes obsessed with his cousin's doll after she tragically passes away from leukemia. As he grows older, he begins to collect "found dolls" from the surrounding neighborhoods and stores his treasures in the abandoned carriage house on his family's estate. But just what kind of dolls are they? In "Gun Accident," a teenage girl is thrilled when her favorite teacher asks her to house-sit, even on short notice. But when an intruder forces his way into the house while the girl is there, the fate of more than one life is changed forever. In "Equatorial," set in the exotic Galapagos, an affluent American wife experiences disorienting assaults upon her sense of who her charismatic husband really is, and what his plans may be for her. In The Doll-Master and Other Tales of Terror, Joyce Carol Oates evokes the "fascination of the abomination" that is at the core of the most profound, the most unsettling, and the most memorable of dark mystery fiction.
You know I am a sucker for scary stories, can't wait to give this one a go!