It's funny how the word 'fantasy' instantly conjures the image of dragons and hobbits when actually the fantasy genre is wide and varied. The three books in my book bag right now are all in one sense fantasy books but are wildly different from one another; from a gentle tale of whimsical magic and sisterly love to a whirlwind tour through the  heroic exploits of Greek myths and legends, to a mystery I have yet to unravel. I am very glad to have so many kinds of magic to explore with each new read.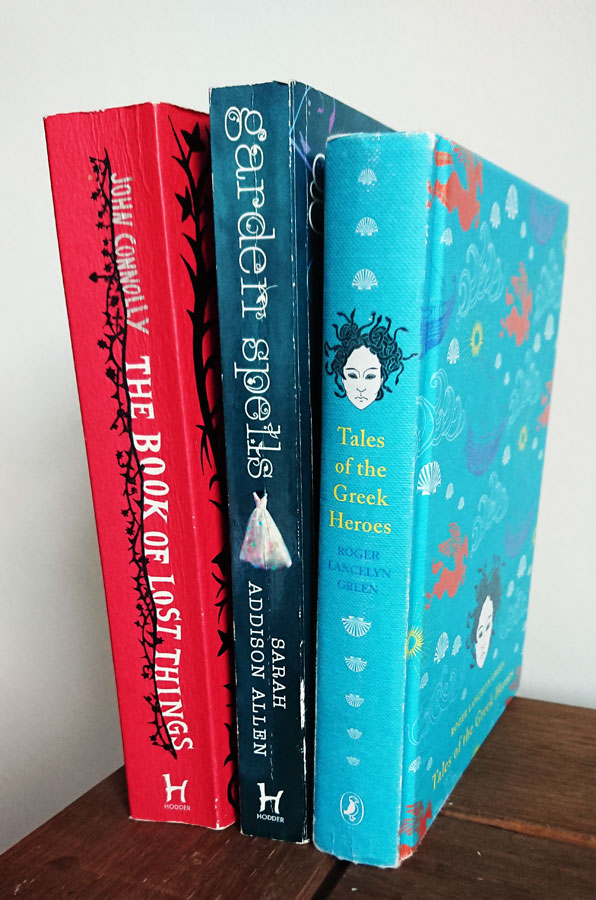 The last book I read – Garden Spells by Sarah Addison Allen
Welcome to Bascom, North Carolina, where it seems that everyone has a story to tell about the Waverley women. The house that's been in the family for generations, the walled garden that mysteriously blooms year round, the rumours of dangerous loves and tragic passions. Every Waverley woman is somehow touched by magic.
I love all of Sarah Addison Allen's works. I'm hoping one day someone will turn her books into a long running TV series where all of her characters belong in the same town. It would be like Once Upon a Time meets Desperate Housewives, with a dash of Gilmore Girls. This is the second time I have read Garden Spells but because it had been a long time since I first read it so I had forgotten how it was going to unfold. The first time I read it, I remember really being in Claire's corner and getting cross at how awful;Sydney was to her, but returning the second time I was much more sympathetic to Sydney and could see how Claire was coming across as really rude and strange. It's funny how much your perspective can change on a second reading. What hadn't changed was how much I enjoyed the town of Bascom and it's quirky inhabitants, and that one boisterous apple tree that is always up to mischief.
What I am reading now – Tales of the Greek Heroes by Roger Lancelyn Green
The mysterious and exciting legends of the gods and heroes in Ancient Greece, from the adventures of Perseus, the labours of Heracles, the voyage of Jason and the Argonauts, to Odysseus and the Trojan wars.
Admittedly, this is technically a children's book but it is a remarkably good one. A brilliant romp through the classic ancient tales of heroes and monsters, gods and giants. What separates this book from others on the same subject is that this seeks to weave all the adventures in to one epic tale, some heroes have their own singular adventures but then they join forces to form a team to accomplish greater quests. Basically it is the Ancient Greece version of the Marvel Cinematic Universe! I also have Roger Lancelyn Green's book on King Arthur and the Knights of the Round Table which has the same approach. I feel the pull right now to add to my collection and go on a hunt for his book on the fall of Troy.
Also, I absolutely love the cover design on this book. After doing my big book cull earlier this year I am much more discerning in what editions I choose to buy and add to our shelves, after all; "books furnish a room"
What I'm reading Next – The Book of Lost Things by John Connolly
'Once upon a time, there was a boy who lost his mother . . .' As twelve-year-old David takes refuge from his grief in the myths and fairytales so beloved of his dead mother, he finds the real world and the fantasy world begin to blend. That is when bad things start to happen. That is when the Crooked Man comes. And David is violently propelled into a land populated by heroes, wolves and monsters, his quest to find the legendary Book of Lost Things.
I bought this in an Oxfam shop last weekend during a hen do of all things! My best friend, Anna, is getting married next month. Anna and her fiance are extreme bookworms so it was fitting for her hen do to have a few book connections. We toured the sights of Shakespeare's home town and we ate at the Royal Shakespeare Theatre's rooftop restaurant. At the wedding they are having a "Book Nook" with a collection of their favourite books for guests to browse and even take home if they so wish, so when we passed the charity shop Anna wanted to go in to see if she could find a couple more titles to add to the nook. Whilst we were there she pulled this book out and told me she thought I would like it for the element of fairy tales invading real life. I can't think of a person whose recommendation I would trust more so I had no hesitation in buying it and adding it to my book bag!