After several consecutive rain drenched weekends, Rob and I ran out of ideas of what to do on yet another wet and cold Saturday that would keep our four year old and us equally entertained. Today, my parents came to our rescue and suggested we visit Cliffe Castle Museum in Keighley. Mum and Dad, say that they used to take me and Fionne there when we were little but I had no memory of it.
A quick google check gave promising results. Cliffe Castle Museum is about a 30 minute drive from our house, has free parking and free entry, a museum/art gallery, a cafe and extensive gardens including a play area.
Travel
The journey there was straightforward. I was a bit worried about encountering flooding but the rain held off today and whilst we could see flooding in the fields, the roads were safe. There wasn't any sign posts directing us to the Castle and the entrance comes up very suddenly, if we hadn't been using Google Maps we could have easily driven straight by it without realising. Once in, we parked up without a problem and smiled at the thought that we didn't need to pay!
The Grounds
It wasn't raining when we arrived so we grabbed the opportunity to walk in the grounds for a little bit whilst the weather was dry (as it happened it stayed dry all day which really suprised me, I think I have begun to believe that torrential rain is the natural state of things). The first thing we saw was the atrium and spent some time looking at the birds and animals. Then we walked to the paths and came to the play area. Orla, of course, wasn't going to miss out on this so she had a good play. The playground had lots to do on it, a couple of climbing frames, a big sand pit, roundabouts and swings and musical equipment. Orla would have happily played for longer but us grown ups were getting cold. Although is was dry, the wind was bitter and fierce. Whilst Orla played my parents went for a brief walk along the front of the castle, taking in the landscaping and the fountains. On a sunny dry day, I could easily seeing us lingering outside, eating ice cream by the fountain and strolling along all the paths.  In February, the planting was a bit underwhelming but there is lots of signs that in summer the gardens will be beautiful – we saw  rows of pruned rose bushes that must be a sight to see in June/July.
Pavillion Cafe
To warm up we headed for the Pavillion Cafe which is a fairly new addition to the site, opened in 2018. This was a lovely place to have lunch. It was so bright with light streaming through the glass ceiling and walls, but it was also remarkably warm inside, even on a very windy and cold day. I had the daily special which was a giant yorkshire pudding with sausage, mash and gravy. The food and service was great. I noticed that when a lady arrived in a wheelchair how quickly the staff moved to make sure she could easily get to the table she wanted. They had an impressive array of cakes and ice creams that looked very tempting (chocolate space cake would have been my choice) but as we were all full after our lunch we didn't try any on this visit.
The Orangeries
After lunch we walked through the orangeries; a series of conservatory structures dedicated for growing exotic plants and trees. I enjoyed looking at the variety in the cactus room and Orla loved looking for the six hidden hedgehogs nestled among the prickly plants. Here, we found a big box which was filled with garden game equipments; bats, balls, croquet set…etc, and a sign that said please help yourself to these games to enjoy in the grounds and return here after use. I thought that was a lovely touch and a great way to encourage families to visit and use the grounds.
The Museum
We finally walked down to the main house and museum. We spent about an hour in here but if we hadn't had Orla with us we would have probably stayed a lot longer. She got a bit tired and then got spooked by the different bird song playing in the taxidermy room. She wasn't bothered by the stuffed animals themselves but the bird song playing really unsettled her, and she wasn't keen on staying on much longer after that. Sometimes you can't predict what a kid will react to!
As well as an extensive natural history section, the museum had lots of art, statues, artefacts from modern history, a geology section, a display of Morris & Co stained glass windows, and rooms that had been preserved from previous eras of occupancy in the castle. Although there was lots to see and very full displays, the museum is well laid out and feels spacious. There was a lot for Orla to see and touch – interactive games, rocks that she could run her fingers over, and activities to do, which was brilliant.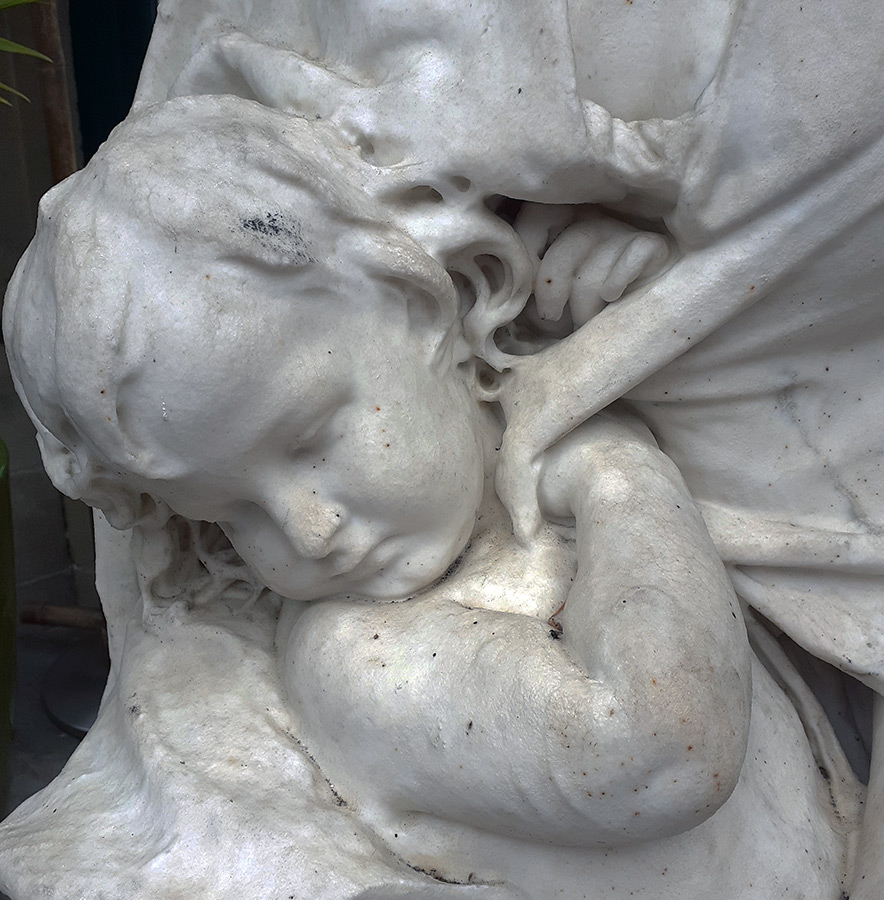 One of the pieces that really stood out to me was a statue of Madonna and Child where Jesus is reclining in to his mother, his hands wrapped in her clothes in the same way I have felt Orla nestle in to me a thousand times. The position felt very true and everyday but circling around the bottom of the statue was a snake. It's body was wrapped around a lamb that was sitting at Mary's feet, but it's head was pressed down under the foot of Jesus. It was a striking image.
I also really like a portrait of a young girl called Claire, that really stood out among the paintings of beautiful women who were more adorned and fancily dressed. In contrast to these portraits, Claire is dressed plainly, her hair scraped back and her face turned away appearing deep in thought over something troublesome. She looked like a girl with a story.
That's what I love about museums and art galleries, each piece, artefact, exhibition inspires more questions then the little scraps of text on white squares accompanying them, will ever be able to answer. All the information you ingest  provokes further curiosity. There was a skull of a lion on display with a prominent cracked tooth. Did the tooth crack in life or in some clumsy shipping accident? The things I long to know!
Final Thoughts
For us this was a brilliant family day out; free, accessible, points of interest for our whole group. I am sure that Cliffe Castle would be even more enjoyable on a hot summer's day when you play out in the sun and then retreat to the museum or cafe when you need some cool shade. But it worked really well for us on a cold winter's day where we wanted to be inside but not in a shopping centre or the dreaded soft play centre! The place is very well kept and there were volunteers around to help you out if you wanted any more information. I am already dreaming of a day when I could come back on my own and explore the museum at my leisure, taking my time, moving slowly, reading up on everything, drinking in the atmosphere without also supervising a small child. But either with family or without, I am most certain that I will return and that Cliffe Castle will make a regular appearance in our Saturday adventures to come.