I'm having a bit of cabin fever at the moment. Since the end of May we have been decorating our living room, which means our main family space has been the dining room for the last five months. At first it was quite fun to be camped out in the dining room with all the furniture squished along the walls and our two big windows that look in to the garden and capture the sunset each day. The dining table just about fit into the kitchen but we have to use a one-way system if more than one person is in there to prevents collisions. But as the months have gone on and our progress slowed due to limited time, budget and an endless amount of woodwork to sand down, the novelty has well and truly worn off.
I really just want to get downstairs back in order again and be able to use the whole house again.  The good news is that we are getting nearer to having the room finished. I'm hopefully going to order a carpet this weekend and I have someone booked in to build us some storage in a couple of weeks.
In the meantime though, I have redirected my energies to the entrance of the house. If I can't get things ordered inside, at least I can spruce up the outside. This week my Mum and I spent a morning giving the entrance to my house a mini-makeover.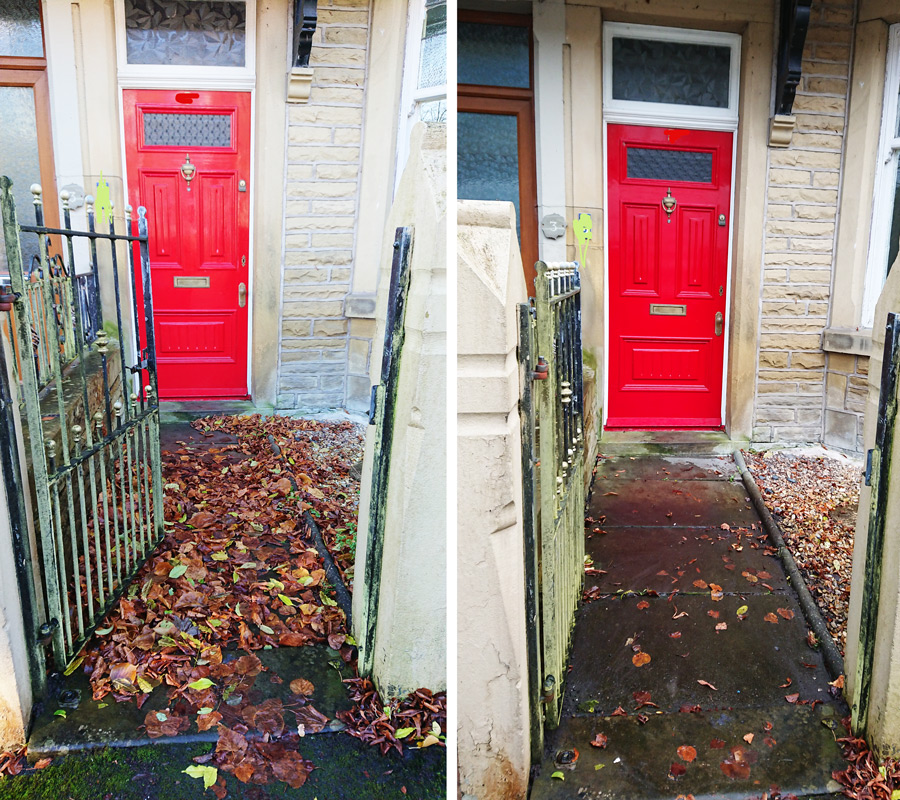 Ah, I love my bright red door, but I love it even more when the leaves are swept away and you can walk up the path without bringing half a tree in with you. Painting this door pillar box red was the first thing we changed about the house when we moved in and I'm so glad we did. It looks so beautiful when we put up the Christmas Wreath in a few weeks time.
Here we swept more leaves away – we have a lot of trees so we get a lot of leaves! And we finally moved the green and yellow box that has lived there for years. It used to be our recycling box but we have a blue bin now instead and for some unknown reason I never thought to move this box away from the front of the house even though it was no longer in use. Ditching the box makes for a much tidier welcoming space. Then we did the fun stuff, changing up the planter. Over summer this gorgeous big pot is filled with sweet-peas and nasturtiums and then in winter I like to swap them out for something that will bring a bit of colour to the entrance of the house.
We chose the plants from B&Q, we got a selection of heather, ivy and red cyclamen which look really pretty all together. Then in the Spring my plan is to move the heather into the garden, because it is one of my favourite plants; it always reminds me of walking on the moors and Wuthering Heights, so I would love to get it established in the garden.
Final change was to trim back the wisteria so that it doesn't droop quite as much over over the archway. It is too late really in the season for pruning the wisteria so I have my fingers crossed that cutting it back just a little will be OK.
And that's the round up of my little front door makeover. There's still a lot of work to do inside the house but sprucing this space up has given me a little boost and given me more motivation to soldier on and get that living room decorated!