I've never related to a meme so completely as I did when I saw the Christian Girl Autumn thing flying around the internet the other week. I was shocked to realise that the cross section of women who love both Jesus and Autumn was prominent enough to form a recognisable cliche. I always thought my love for turning leaves, cinnamon hot chocolate and mustard coloured knitwear was a result of my October birthday, I never put any of it down to my church going, Bible reading habits. A part of me feels like I need to sit down and re-examine why I fell in love with this season in the first place. But then again, another, much more dominant, part of me is too busy lighting apple pie scented candles to get too deep in to self reflection right now.
Last year, I put together a list of all the things I love to do in Autumn, here it is again:
Just reading that list gives me a warm glow inside! I realised tonight that I have already ticked off a number of things on this list.
So far I have:
Crunched leaves under my wellies on a family walk to Spring Wood in Whalley, where we also did a bit of a low key Autumn Photoshoot.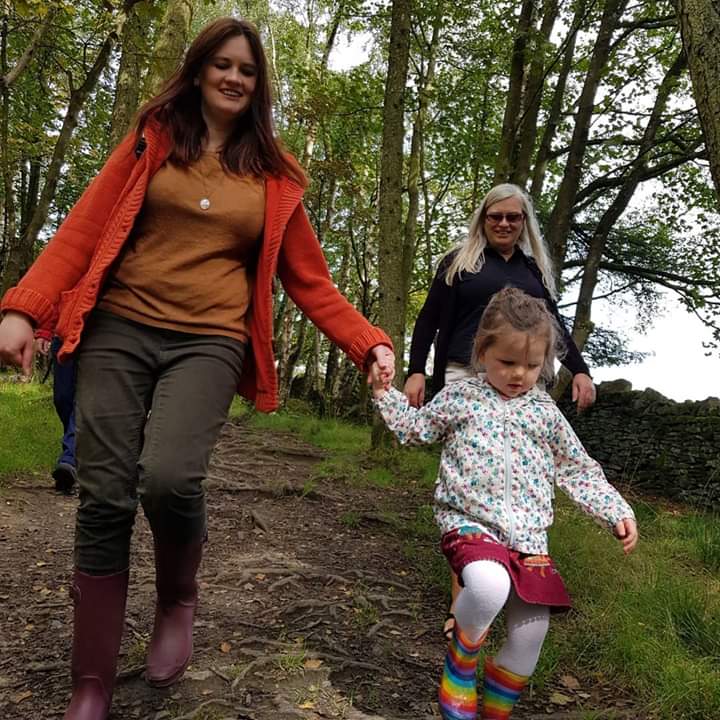 Please note my outfit with as many Autumn shades as I could fit in: burnt Orange oversized knit, brown jumper, dark green jeans, plum purple wellies. Please also note that my mum in the background is wearing a skirt and sandals. Only one of us was dressed according to the weather, (and it wasn't me!).
The Coffee shop at work is open again so I have treated myself to the occasional hot chocolate sprinkled with cinnamon. I am lighting my scented candles each evening; tonight I have swapped out the spiced pumpkin and chestnuts candle for the warm apple pie one instead.
I have been living in ankle boots since 1st September and swapped over to a plum shade lipstick. I'm about to move offices in to a newly refurbished building that is very swanky and modern so to celebrate, I have treated myself to a new stationery set (which I got in a 50% off sale!). We are watching The Great British Bake Off each week (Rosie to win but I think Phil could be the dark horse to watch out for).  Oh, and I'm working my way solidly through Gilmore Girls season three.We haven't baked a pie but we did go blackberry picking and made a blackberry and apple crumble. 
That's a lot of Autumn, and we've still got lots more weeks of Autumn fun to have. Right now I am really looking to sitting around a bonfire – even if it's just a little one in our firepit on the next dry evening that comes our way. Oh and I can't wait till later in the year when Rob makes his pumpkin pie, in memory of his adopted American Great Aunt Connie who used to host a Thanksgiving Dinner each year. I only got to attend two of them before she passed away, but each year  since then Rob makes a pumpkin pie around Thanksgiving and it always reminds us of her warmth, kindness and hospitality. Which is one more wonderful reason to be grateful for this most golden season.