At the end of August, late one Friday afternoon, work in our office noticeably slackened for twenty minutes. Becky from the office downstairs had just proudly told us how she had booked train tickets to Leeds and back for just 20p. She explained to our disbelieving ears that Northern Rail had a flash sale on and were selling tickets to lots of Northern locations for just 10p per ticket. It sounded too good to be true, but a quick Google verified her story. There was a sale on; 10p per adult, 5p for children. The office went very quiet as we all surreptitiously had a look at the options; York and Kendal were tempting but in the end I thought a day out in Leeds would suit my little family best. For 50p I bought the three of us return tickets for Saturday 7th September, which just so happened to be the day before our 7 year wedding anniversary. A shopping trip to Leeds would be a perfect anniversary treat.
Getting there
Our ticket was from Burnley, Manchester Road station to Leeds with a change over at Todmorden. We parked up at the train station where there was plenty of free parking available. Our trains there and back were all on time and there was always someone about to tell us which platform we needed to be on. I downloaded the Northern Rail app to display our tickets and that worked fine, except for a couple of minutes during the return journey when I felt a bit panicked that my tickets were labelled as expired. But when I ticked on the expired tickets and opened the second tab, that was marked as 'Return' my tickets were still there and active to use at the station. Phew!
The journey between Burnley and Todmorden was especially beautiful, cutting through the valleys and being surrounded by hills. Orla was really excited to look out of the window, and was very taken by the novelty of there being no seat-belts! After Todmorden the train did get busier and busier as we approached Leeds. We had to stand for a couple of stops but the time went by fairly quickly and soon we were pouring out of Leeds station at 12pm and ready for some lunch.
A Toddler Friendly Shopping Excursion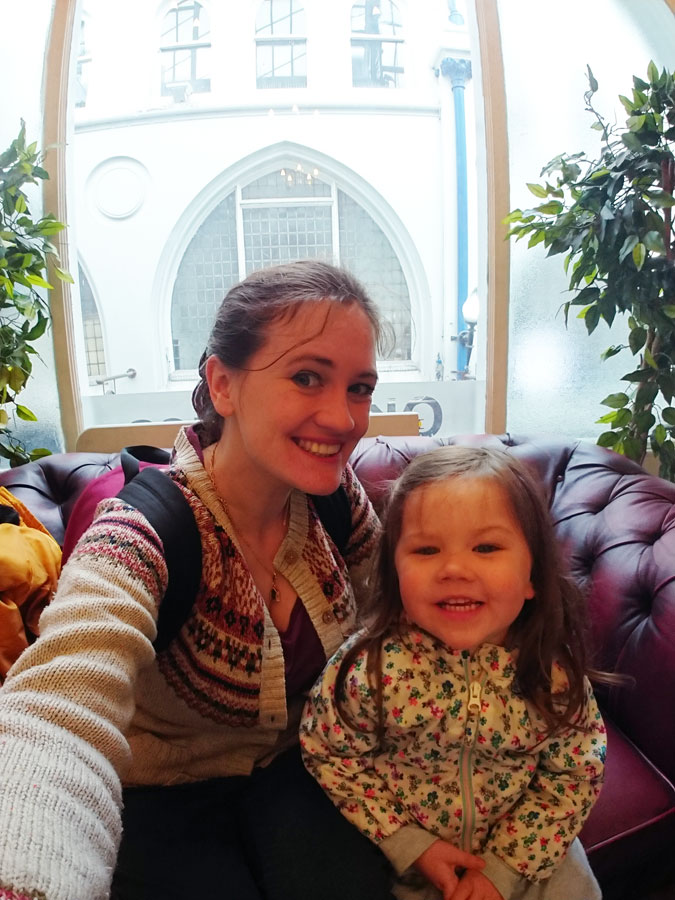 Taking a three year old on a shopping trip in to a city centre does have lots of potential for turning in to a nightmare, but it doesn't have to be, with a bit of planning. Rob and I have found that a lot of disasters can be avoided by putting ourselves into Orla's shoes and planning in advance how to make the day fun for her. Here are some of the things we did to make our day three-year-old-friendly:
A McDonald's happy meal was our first stop. We arrived dead on lunch time and as all ages are prone to getting hangry we went to get food straight away. Whilst McDonalds is not the most nutritious of meals, it is quick, convenient and a real treat for Orla and it started the trip with something she enjoys.
We spent time at the shops that would interest Orla the most, that offered lots of things for her senses; the Lego shop where she got to play with the bricks, Lush where she could smell all the bath bombs, Waterstones where she could do some colouring and read some stories. We didn't go to places where we would forever be saying "Don't touch that!" because then none of us would be having fun.
We let Orla pick out one toy to take home. If Rob and I are buying nice things it is only fair that Orla gets to do that too.
Stopping for regular breaks and food – we didn't want her to get over tired so when we felt that we were flagging we stopped for a drink and cake break at Waterstone's cafe, which is a favourite place of ours to have a rest. Food, drink, squishy sofas and hundreds of books to browse! Bliss!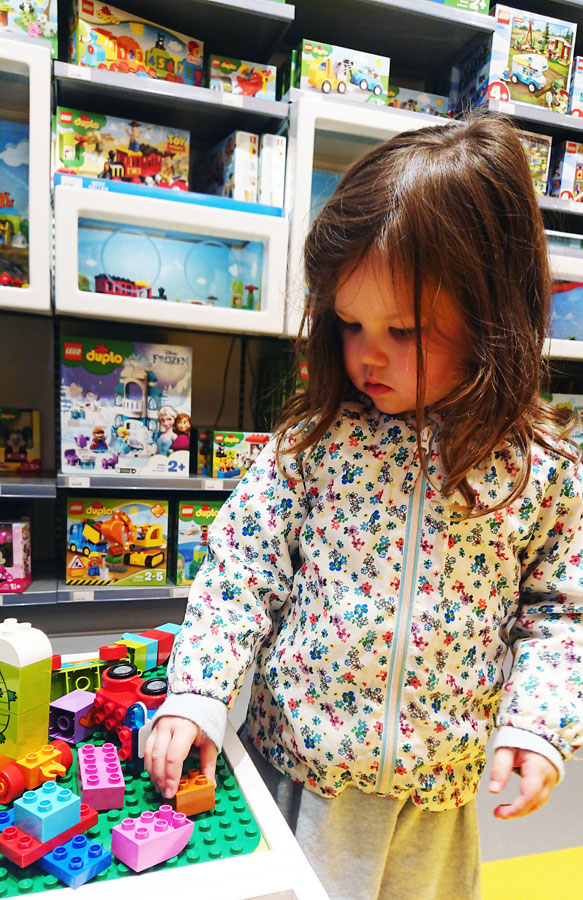 If it had been a day out with just Rob and I, we would probably have prolonged the day. Had an evening meal and a drink before returning home. We would have hit more clothes shops and spent longer browsing. But this approach, kept all three of us happy and entertained all day.
Seeing the Sights
Keeping out Little Miss and her little legs in mind we didn't stray far from the central block of shopping centres and arcades, but even within a short radius there is a lot of interesting buildings and statues to catch your eye. Directly outside of the train station there is a wonderful mix of modern skyscrapers, old churches and memorial statues that surround you as you step in to the city. In between the buskers and a very well ordered and peaceful political protest was this giant statue of the human anatomy.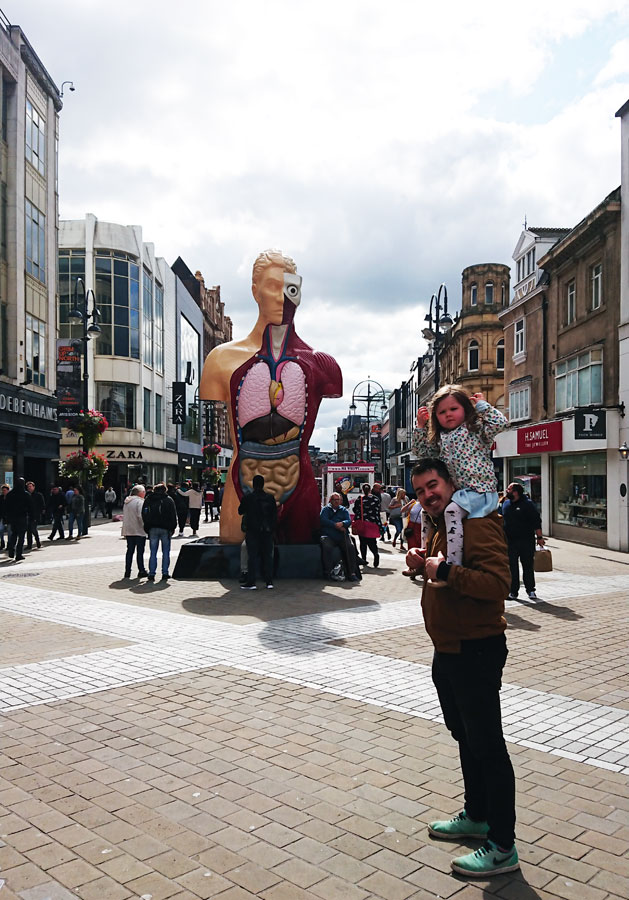 And then my favourite part of a Leeds trip is always walking up and down the arcades, with their painted glass ceiling and expensive shop windows. It always feels like Christmas in here! Just beautiful.
Geeky Highlights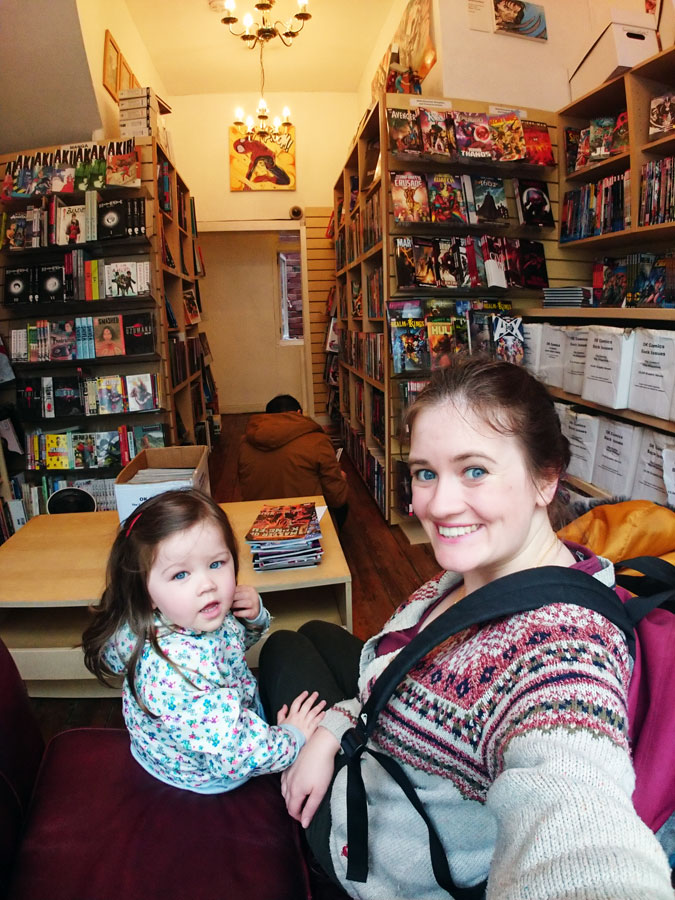 We had a good look around at OK Comics which is a tiny comic shop in Thornton's Arcade. It is crammed full of comics and best of all, upstairs is a sofa where Orla and I had a little sit down whilst Rob spent some time looking for new reading material. This was also a perfect opportunity for Orla to play with her toy that she had chosen at Forbidden planet; a tiny Pusheen holding an even tinier slice of pizza. We really enjoyed this quiet little nook in the busy city centre and it was also fun to people watch and eavesdrop on the other customers picking out their comics.
In the Lego shop, I got very excited to see the new Disney Mini-figures series. Rob and I used to collect Lego mini figures, and would try and get a couple whenever we had a special day out together. We dropped the habit when Orla arrived, figuring that Lego and babies wouldn't mix. But seeing as it was our anniversary and this series looked so cool we decided to pick out three new figures to take home. The figures are meant to be a mystery lucky dip but if you ask the shop assistants for some help they are very good at feeling each mystery bag and working out which figure is inside. They very nicely managed to pick out for us the exact figures that we wanted; Elsa for Orla, Sally for me, and Jack for Rob. Brilliant!
Home again
We got back to the train station at ten to five and popped in to a shop to pick up Orla some food to eat on the journey home. We then headed to the platform to find our train was already there, even though we were quarter of an hour early. This was excellent because we got to straight on board and found seats with a table which was perfect for Orla to sit at and eat her food. The train was very quiet; we had nearly the whole carriage to ourselves.   Once Orla had eaten her tea on the go, we opened the Lego Mini-figure packets and Orla happily played with them all the way back to Burnley. We were back in our car for 7 o'clock with a girl who happily chatted to us about the day we'd had. She told us that she loved going on trans and asked if we could go to Leeds again tomorrow!
Final Verdict
Travelling by train is such a novelty for us. It is normally cheaper and quicker for us to drive. But this trip was really relaxed and fun. It was nice not having to worry about parking spaces and forking over seven pounds to just park up. The journey was straight forward and Leeds is just the right distance away to make it a worthwhile day trip. At full price we would have paid £38 for the same journey so we definitely got a great bargain, and we will be keeping our eyes open for other sales in the future.