If you wanted to recreate a happy summery childhood scene from your favourite Enid Blighton novel, you would struggle to find a more nostalgic setting than the village of Wycoller. A chocolate box village complete with a ruin that is said to have inspired the Bronte sisters, a river for paddling, a duck pond and one picturesque cafe for all of your ice cream needs. We spent a brilliant afternoon there this last Bank Holiday weekend, so I thought I would write up a trip report for those who are considering it for their next family day out.
Getting there
Wycoller is signposted fairly clearly when driving from Colne. The roads there are your classic country roads; narrow and bendy but with some spectacular views of Pendle. There is no car park in Wycoller itself and the village tries to discourage cars from driving in to the village, although there are some drop off spaces for those who would struggle to walk down. Just before the village there is a decent sized car park. There is a parking machine but this has not been working the last three times I have visited, so wahoo! Free parking! From the car park there is a five to ten minute walk to the village. We always see this as part of the fun, you walk along a wooded lane bordering fields before crossing a bridge to enter in to the village.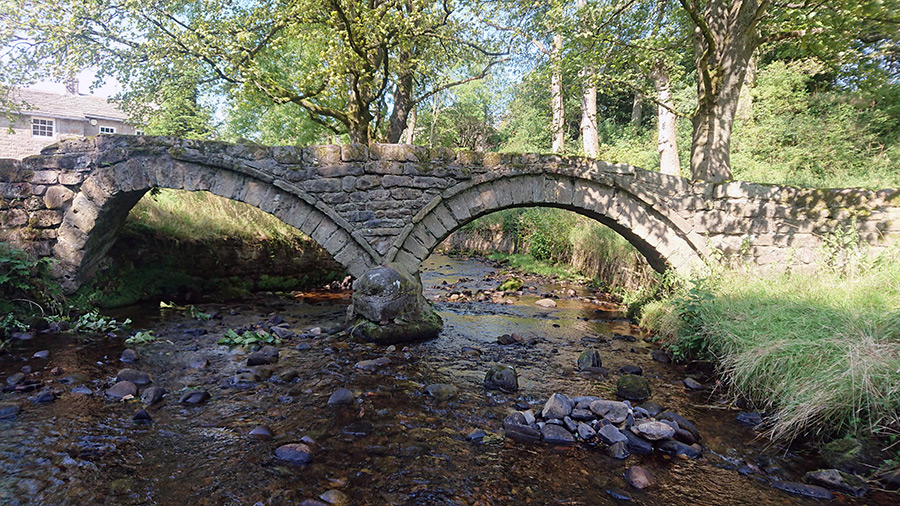 Picnic Time
We arrived at about 1'O'Clock so we headed straight down to the picnic area by the duck pond to have lunch. Although this was a sunny weekend, the place was not crowded at all. We found a great spot under the shade of the trees to settle down with our picnic blanket and goodies. There were a few picnic benches available too but Orla likes sitting on the blanket best. One thing to note is that there are no bins available in Wycoller, except in the public toilet. I think this is to discourage people over filling the bins. We had brought a plastic bag that served as a rubbish bag and we just carried it with us and put it in the bin when we got back home.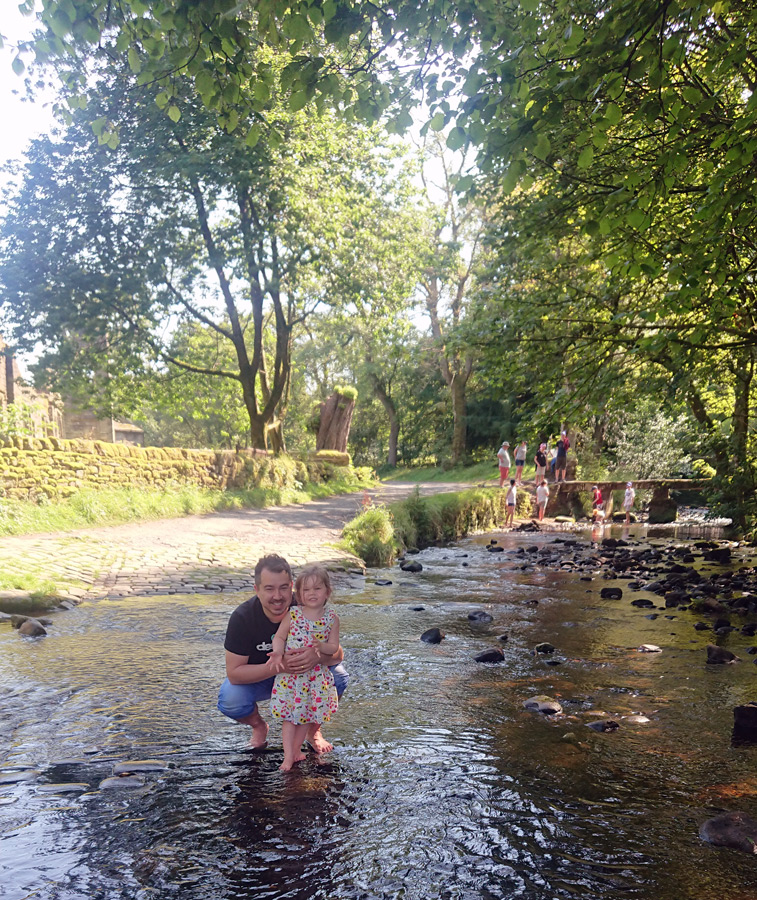 Paddle
After the picnic we walked back to the ford, which has a perfect smooth slope that was made for paddling. Orla went in bare foot and I swapped from my trainers to flip flops. The ford itself is made of smooth cobbles that are gentle on the feet but are very slippy, the water barely comes up to your ankles. On either side of the ford the water is a little deeper and the ground is rockier and uneven. Obviously, Orla wanted to get as deep as she could, not minding that her dress was getting soaked! The water is beautifully clear and if you are observant you have a good chance of spotting some tiny fish flittering about. Paddling at this place is beautiful as you are between the two ancient stone bridges, that if you are a film buff you might recognise them from the film, the Railway Children.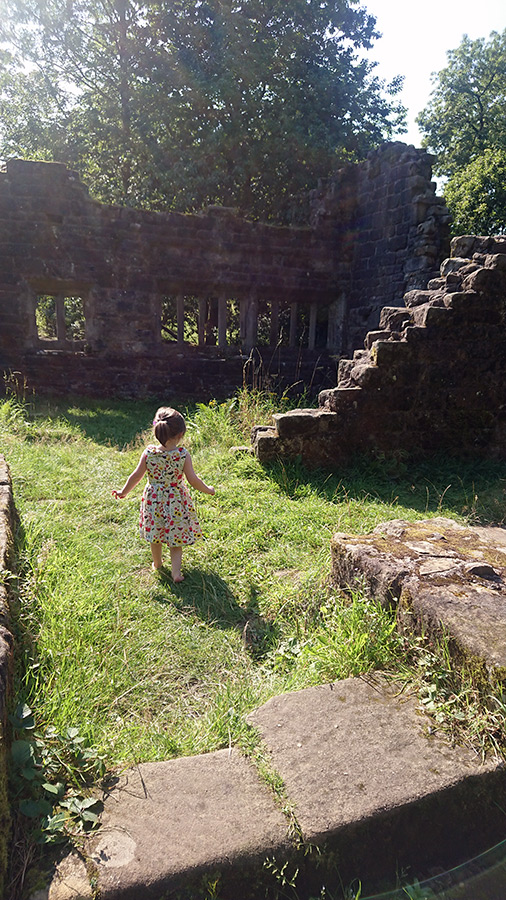 Ice Cream
After a paddle in the river, we head to the cafe for some ice cream. The cafe/gift shop is on the other side of the bridge. It has an outdoor seating area so we sat under the shade of a lovely twisty wisteria, eating our ice creams and watching the hikers pass by. Wycoller is a great central spot for a number of countryside walks, which we keep talking about doing and then we end up sticking to the village and lazying around the river! One time we really will hit some of the trails in the area!
Ruins
Once the ice cream had gone we crossed the bridge again to explore the ruins of Wycoller Hall. We wandered between the partial walls and peered out of windows that still frame the outside world so prettily. There are signs up now prohibiting climbing up the steps and walls but you can still walk through all areas of the house and explore it's many nooks and crannies. Orla loved running in and out of the arched doorways.
The Barn of Art
Between the ruins and the duck pond is a big barn that is also worth a look. Inside are various art installations and historical displays, it's a great place to come and escape the sun on hot days and learn a bit more about the village. My favourite display is this really tiny fairy house, completely adorable!
After the barn we had one more paddle in the river before heading back to the car park. Somehow we had managed to spend three and a half hours there. The time had flown by! I can fully recommend Wycoller as a great family day out, in summer it is great for paddling but it is a treat in Autumn too! The colours are amazing, and the cafe is famed for doing excellent warming soups!